This page will be updated in early 2023
English short CV (March 2013) (Français ci-dessous)
Jean-Pascal van Ypersele (1957, Belgium), has a Ph. D. in physics from the « Université catholique de Louvain » (Louvain-la-Neuve, Belgium), where he is ordinary (= Full) professor of climatology and environmental sciences, and co-directs the Master programme in Science and Management of the Environment. He made his doctoral research in climatology at NCAR (National Center for Atmospheric Research, Colorado, USA). He specialized in modelling climate and the climate effects of human activities, and has recently focused his research on climate change at the regional scale (modelling and impacts) and on integrated assessment of climate change. He chairs the Energy & Climate Working Group of the Belgian Federal Council for Sustainable Development. In 2008, Jean-Pascal van Ypersele has been elected Vice-chair of IPCC (Intergovernmental Panel on Climate Change, which shared with Al Gore the 2007 Nobel Peace Prize), after participating in its work since 1995. In that capacity, he led a reflection group on the future of IPCC, which proposed a number of reforms that were adopted by the IPCC Plenary in 2009. In 2009, he was elected a Member of the Belgian Royal Academy. He has participated to a number of United Nations conferences on climate issues as scientific advisor and was instrumental in creating in 2002 the UN work programme on climate communication and education. Among other prizes, he received in 2006 the « Energy and environment award » from the International Polar Foundation, the "Francqui Chair" from the Université libre de Bruxelles in 2007-2008, and was made Honorary Member of the Club of Rome EU Chapter in 2010. In 2011, he received the « Francqui Chair » form HUBrussel, co-organized the first Stephen Schneider Symposium, was made honorary citizen of the city of Dinant (Belgium), and received the highest distinction awarded by the Government of the Walloon Region: "Commandeur du Mérite wallon". In 2013, he co-chaired the first Interdisciplinary Symposium on Sustainable Development in Namur.
E-mail: jean-pascal.vanypersele

uclouvain.be, web site: http://www.climate.be/vanyp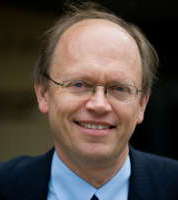 Photo: ©Jacky Delorme (UCL)
[This picture can be freely used, but the name of its author should be mentioned in this way]
---
CV résumé de Jean-Pascal van Ypersele (Mars 2013)
Le Pr Jean-Pascal van Ypersele (Bruxelles, 1957) est Docteur en sciences physiques, climatologue, professeur ordinaire à l'UCL où il co-dirige le
Master en Sciences et Gestion de l'Environnement
. Après une recherche doctorale menée au USA (National center for Atmospheric Research Boulder, Colorado)aux USA, il s'est spécialisé dans la simulation des changements climatiques à l'aide de modèles et mène des recherches sur l'effet des activités humaines sur le climat et vice-versa, dans une perspective interdisciplinaire. Il est membre du
Conseil Fédéral (belge) du Développement Durable
et en préside le Groupe de travail "Energie et climat". Il y stimule un dialogue constructif entre "acteurs" d'opinions parfois très divergentes. Il participe régulièrement aux grandes conférences des Nations unies sur le climat comme conseiller scientifique de la délégation belge. Il a joué un rôle-clé dans la création en 2002 du programme de travail des
Nations unies pour développer la communication et l'éducation en matière de changements climatiques
. En 2008, il a été élu Vice-président de l'ensemble du
GIEC
(Groupe d'experts intergouvernemental sur l'évolution du climat, ou IPCC en anglais, le panel d'experts des Nations Unies qui a partagé avec Al Gore le Prix Nobel de la Paix en 2007). Depuis 2002, il était membre du Bureau du GIEC. Il a présidé un groupe de réflexion sur le futur du GIEC, qui a proposé une série de réformes, adoptées par le GIEC en 2009. Interenvironnement-Wallonie lui a décerné en 1999 une "Palme pour l'environnement". Le Conseil de l'éducation permanente de l'ULB (CEPULB) l'a nominé pour le Prix Jean Teghem (vulgarisation scientifique) en 2000. En 2006, il a reçu le Prix spécial « Energie et environnement Award » de la Fondation Polaire Internationale. En 2007, il a été mis à l'honneur par la Province du Brabant-Wallon. En 2008, il a été titulaire de la Chaire Francqui à l'ULB et a reçu la médaille de l'ULB. En 2009, il a été élu Membre de l'Académie Royale de Belgique. En 2010, il a été nommé membre d'honneur du Club de Rome-EU Chapter. En 2011, il a co-organisé le 1er Symposium "Stephen Schneider" et il a été nommé Citoyen d'honneur de la Ville de Dinant, le Gouvernement wallon l'a élevé à la dignité de Commandeur du Mérite wallon (la plus haute distinction), et il a été titulaire de la chaire Francqui à HUB Brussel. En 2013, il a co-présidé le
1er Congrès interdisciplinaire sur le développement durable .
---
Professional address / Adresse professionnelle
Prof. Jean-Pascal van Ypersele
IPCC Vice-chair/Vice-président du GIEC
Membre de l'Académie royale de Belgique
Georges Lemaître Centre for Earth and Climate Research (TECLIM)
Université catholique de Louvain (UCL)
Earth and Life Institute (ELI)
Place Louis Pasteur 3 bte L4.03.08
B-1348 Louvain-la-Neuve
Belgium
Tel: +32(0)10.47.32.96

Courriel: jean-pascal.vanypersele

uclouvain.be, web site :http://www.climate.be/vanyp